On May 24, the Gorham High School girls' varsity doubles team of Avery Arena and Delaney Burns ruled the court and claimed the Southwestern Maine Activities Association title. Arena went into the match defending her 2016 top-spot trophy. The partners were the top- seed heading into the SMAA tournament, earning a first-round bye. They then played three same-day matches to earn a slot in the final. Their 6-2, 6-4 title win over the South Portland duo of Stanton/Henderson was sandwiched between the Rams' successful regular season and the Maine Principal Association's team postseason tournament.
Delaney, daughter of Robert and Tracy Burns, and Arena, daughter of Philip and Kim Arena, were quick to highlight the Lady Rams entire team, and its impressive season with Coach Nicole Bergeron at the helm. The team finished the regular season at 11-1, heating up along with the spring for a 10-win streak following a tough 3-2 loss in the April 28 opener against Thornton Academy. The squad was a #3 seed entering the playoffs, earning a bye in the preliminary round. They rolled to a 5-0 quarterfinal victory over Portland (#6 seed) on June 1, but dropped the semifinal against eventual state champ Falmouth (#2 seed).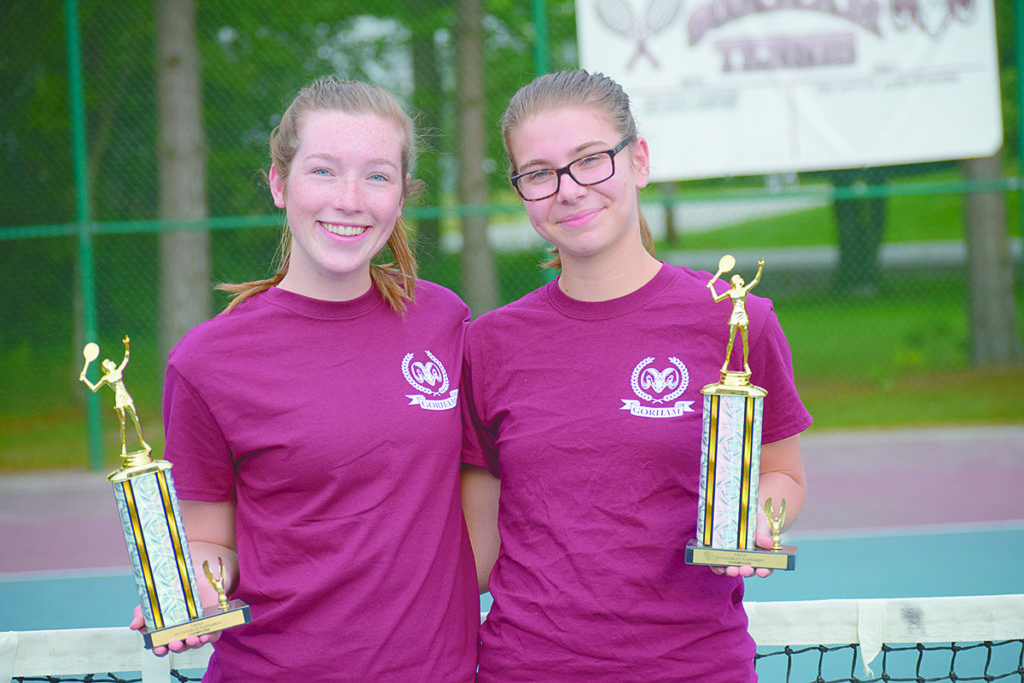 Arena reflected on the Falmouth match, and said, "I would say we played the best we had all season at the finals match. It felt like we had settled into the rhythm of playing together and it was my favorite match of the year." Burns added, "I definitely agree with Avery in the sense that we played the best we ever had at the tournament. Going into finals I felt super energized. Falmouth was a tough match but I'm really proud of how we played together and put up a fight. Even though we lost to Falmouth I thought that we kept a really good spirit and good sportsmanship, just like we had at all the other matches." Coach Bergeron offered, "During the tournament, their enthusiasm and focus kicked up after each match and they were so much fun to watch. We're all very proud of them."
These seniors' 2017 synergy certainly doesn't come from a haphazard pairing. Avery said, "Delaney and I have been on the team together for several years, but this is our first year as doubles partners. We both played varsity doubles last year, so it was a natural fit to play together this year." Burns complemented the thought with, "We had hit around together before. It felt really natural to play together, our communication was great."
The near future for the two magna cum laude graduates? Arena will spend the summer working on various political projects and campaigns. She will be attending Yale University in the fall, where she plans to study political science. Burns will be working this summer, and is then headed to the University of Maine at Orono, where she will study graphic design.