Steve Girard is the owner and operator of a unique company called Xtreme Aerial View that uses small Unmanned Aircraft System (sUAS), or drones, to provide aerial footage for a variety of clients.
Although he is based in Gorham, Girard does work all over New England. About 85% of his customers are in the real estate industry, but he is also hired by hotels, golf courses, car dealerships, amusement parks, and campgrounds. He is often contacted to provide unique views of weddings as well.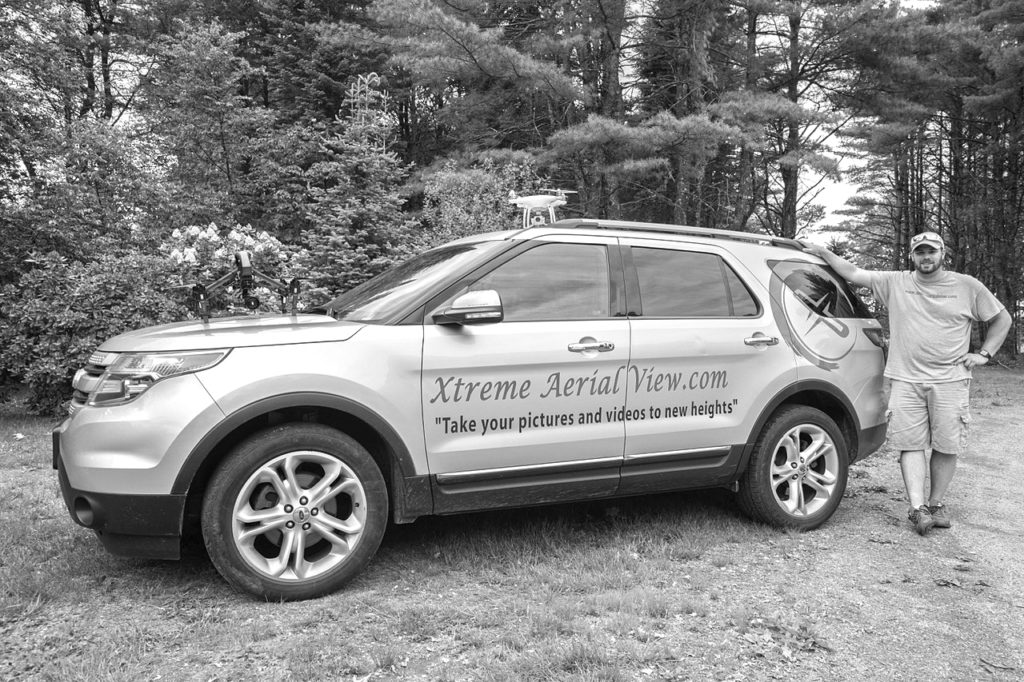 He offers reasonable prices for individuals who might want a video or a still aerial photograph of their private property, too. In the future, Girard would like to expand the business into new areas such as inspections of road and bridges. "Unmanned aircraft equipped with infrared cameras can also be invaluable in search and rescue operations," he added.
From an early age, Girard was obsessed with flight and in his spare time, he enjoyed flying a remote control helicopter. One day, he and a friend decided to strap a phone to the helicopter. That experiment failed, but it sparked the idea for his business. He bought his first drone and camera for $1000 online and began to reach out to a few realtors. In 2015, after an article in the Press Herald and a segment on Channel 6 news, his business took off. He quit his job at U.S. Cellular's Gorham store and began working for himself full time.
Girard has graduated to a larger aircraft and camera that cost $4700. He has also invested in high-end computer equipment and top of the line digital editing software to make his product the best it can be. He works hard to please each customer in a timely fashion.
Girard is FAA licensed and he prides himself on his professionalism. "Unmanned aircraft can be a little controversial, new things often are," said Girard, "but I want everyone to know that I always respect people's privacy and I always follow FAA rules." His advice for prospective clients is for them to research who they are hiring for aerial work, to make sure that company is insured, licensed and that they have the experience to do it safely.
Girard enjoys being his own boss and the flexibility that gives him. While he often works long hours flying, shooting and then editing the aerial footage, he is doing something he absolutely loves. Girard has an artistic eye that makes his work visually beautiful and appealing. He also enjoys working with people to capture just the right shots to showcase a beautiful property or a romantic wedding. "I get to see some beautiful places, often during a stunning sunrise or sunset that take can take your breath away," he said.
Girard's personal life story is as unique as his business. He is multilingual, having been born and raised in a small farming town, Cornol, Switzerland, near the French border. It is home to a medieval castle that is listed as a Swiss heritage site of national significance. While growing up, he spent several summers visiting his Dad's cousin who lived in Portland. Girard fell in love with the area and decided to move here in 2005. He became a U.S. citizen in 2012, and then sponsored his mother who has now been in Gorham for four years and lives near Girard and his 10 year old daughter. Girard loves the rural nature of Gorham and enjoys spending time boating on nearby lakes and the ocean.
To see some of Girard's gorgeous photography and to learn more about his work, visit his website here.