On Tuesday, October 10, the junior varsity and varsity volleyball teams hosted Bonny Eagle as well as their first "Dig Pink" event. In a show of support and solidarity for people affected by breast cancer, the players, when not competing on the court, displayed tee-shirts with a pink volleyball player graphic and pink lettered "Gorham vs. Bonny Eagle, October 10, 2017." Some of the student-athletes donned solid pink or trimmed socks.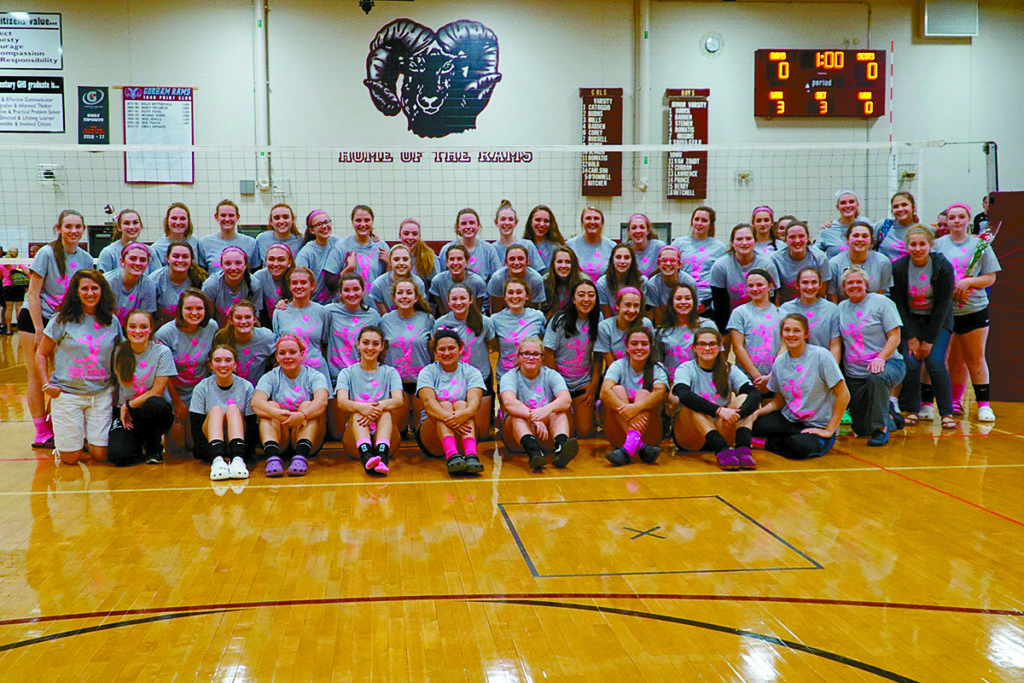 "Dig Pink" games and rallies are gaining traction nationwide, and JV coach Hallye Anderson had participated in a similar event in Wisconsin. Varsity coach Emma Tirrell noted that, "Lots of surrounding schools have one, and we thought it would be a tradition to start at Gorham." Tirrell added, "We do not have any seniors, so instead of celebrating a senior night, we had a 'Dig Pink' night."
Both coaches were impressed by the fun and fundraising achieved by the collaboration between the two programs. Anderson exclaimed, "It was so awesome to see two communities come together for the same cause and both sides be so passionate about it." Over $500 was raised through pre-event tee-shirt sales, a 50/50 raffle, concessions, and donations. The money will be donated to the Cancer Community Center in South Portland.
The term "dig" in volleyball refers to an essential move to return a spike attack. The dig requires a stable, yet agile and prepared body position ready to move to the anticipated spike, with a 'platform' created by both arms, wrists, and hands that will be used to dig a return before the ball hits the surface for a point. No metaphor was lost on the teams and their fans that night.