Four thrilled Gorham kids will be flying on the set of "Peter Pan" and eleven more actors from Gorham will be in the cast when the musical opens at the Schoolhouse Arts Center in Standish on July 13.
Based on the J.M. Barrie story of the boy who never grows old, this production will feature Peter and the Darling children actually soaring over the stage. Flying By Foy, a flying training company from Las Vegas, will outfit the young actors with special harnesses and train them as they did Mary Martin in the original 1954 Broadway production.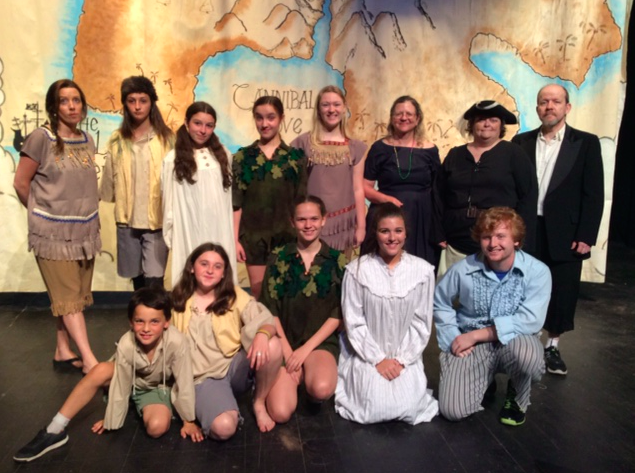 Alex Turkey, Taylor Price and Olivia Price play boys who, after falling out of their baby carriages, became the Lost Boys of Neverland. They defend Peter against Captain Hook and his pirate band, some of whom are played by Janet Littlefield, John Littlefield and Cindy Smith, who also plays Mrs. Darling. Smee, a member of Hook's crew, is played by Jeff McNally.
Indian residents of Neverland include Gorham's Meghan Reidy and Melissa Spicer, who plays grown-up Wendy as well.The script calls for the Indians to "let loose" in a spirited dance, something Reidy enjoys about the part. Because the script is so dated, however, director Zachariah Sterns substituted "warriors" and "braves" for references to "redskins."
Sterns was praised unanimously by the Gorham cast members for making rehearsals "like a game." His youth and enthusiasm, they said, "make him a great director who treats us like family." Actors, some of whom like Cindy Smith have been with Schoolhouse Arts Center for many years, are finding this one of their most enjoyable productions.
Sterns is from Maine and studied at USM, but now lives in Connecticut. He has been performing as an actor and comedian since he was seven, and even played Peter Pan as a child.
"Peter Pan" opens on July 13 and runs through July 30 at the Schoolhouse Arts Center on Route 114 in Standish. For more information about times and tickets, visit the Schoolhouse Arts Center website.