Written with Zachery McGouldrick, GHS Student Intern
Ben Nelson and Grace McGouldrick (pictured front, center) signed college National Letters of Intent on November 9 at Gorham High School. The pair of senior standout student-athletes enjoyed sharing a simultaneous ceremony attended by many supporters, including family members, coaches, mentors, and teammates.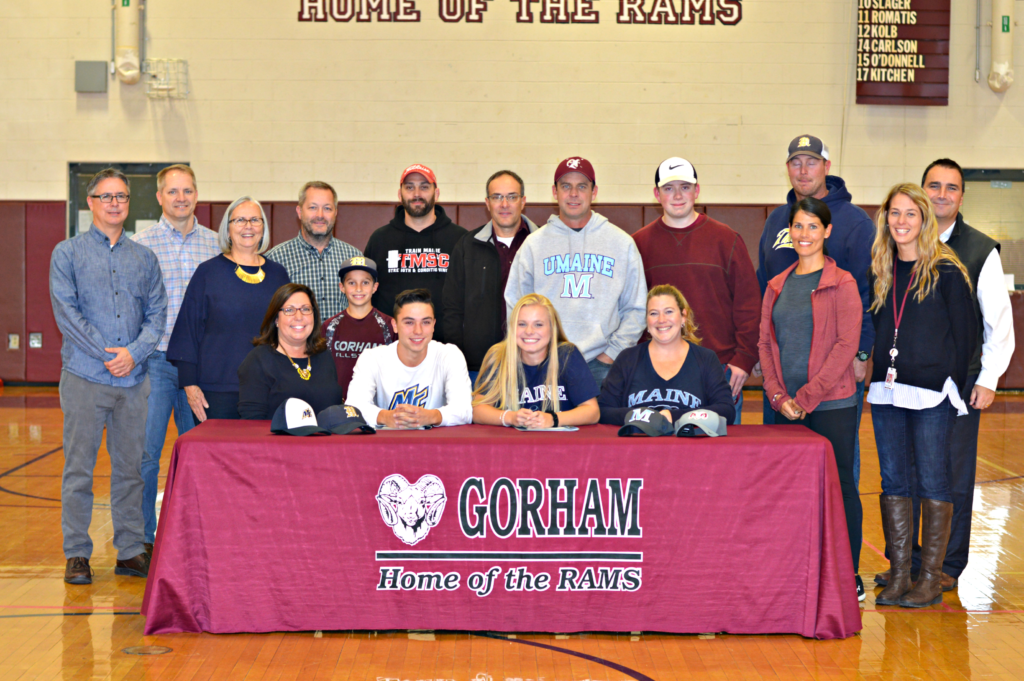 "We know it takes a lot of people, and a lot of hard work to get to this level, but I think being able to recognize it in the school is very important," commented Athletic Director Tim Spear.
McGouldrick, daughter of Phil and Heidi McGouldrick, will be attending the University of Maine at Orono, where she will play softball and plans to study exercise science. Among her many athletic honors, the shortstop/ pitcher was named All-State and packed a punch at the plate during the 2017 season, hitting .609 with 32 runs and 23 RBIs. The University of Maine at Orono competes in the NCAA Division I America East Conference. The team played in the conference finals in 2016 and 2017.
Nelson, son of Chris and Sara Nelson, will be attending Merrimack College in North Andover, Massachusetts, where he will play baseball and plans to study mechanical engineering. Among his athletic achievements, the shortstop was among the 2017 Portland Press Herald Top-25 Players to Watch, led the SMAA with a .442 batting average as a sophomore, and was named to the 2017 USA Today All-USA Maine second team. Merrimack College competes in the NCAA Division II Northeast-10 Conference.