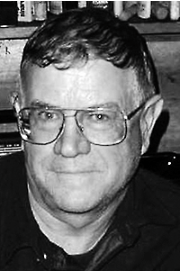 John David Phinney, 74, of Gorham, passed away on June 14, 2017, at Maine Medical Center, surrounded by his wife and children.
John was the son of Raymond and Florence (Hatch) Phinney. A lifelong Gorham resident, he was born on July 21, 1942. He attended Gorham schools through his sophomore year of high school, transferring to Gould Academy as a junior. He probably shocked his Gorham High School teachers when he made high honors in the National Merit testing of his time. We know this because he kept copies of his National Merit honors certificate as well has his Gorham High School report cards. He graduated from Gould Academy in 1960, the University of New Hampshire in 1964, and served in the Army National Guard for six years.
He met his wife of 54 years, Rosamond Jude, of Ellsworth, Maine, in 1960, while she was a student at Gorham State Teachers College. He was so shy that he could barely speak to her for the next year. Fortunately for his children, he finally worked up the courage to ask her out, and they were married in 1963.
Much of John's life was devoted to running his family business, Phinney Lumber Company. He started working there as soon as he could walk (pretty much) and then barely spent any time away for the rest of his life. He began his workday by arriving at the retail store at the crack of dawn, and behind the scenes he managed timberland throughout southern Maine. He owned many woodlots in Cumberland and York counties, from which timber was harvested, sawn, and then sold in many forms.
Outside of work, he was a longtime and integral member of the Gorham Savings Bank board of directors, and he helped guide the bank as it grew from a single branch in Gorham into what it is today.
John was proud to be descended from Captain John Phinney, the first settler in the town of Gorham. His family roots and the town of Gorham were very important to him. He did a great deal of genealogical research, and he collected anything related to the history of Gorham. He donated the Gazebo to the town at its 250th celebration, funded the restoration the town clock at the First Parish Congregational Church, and served on the Gorham planning board.
He truly loved spending time in the outdoors, whether he was hunting, fishing, walking his woodlots, caring for his large gardens, or just puttering around his barn. He and Rose had a camp in Beaver Cove at Moosehead Lake, where they spent as much time as possible throughout the warmer months. Some of his favorite adventures were the hunting and fishing trips he took with lifelong friends, Nick Miller, Jim Miller, and John Marsh, and brother-in-law, Dick Jude.
Over the years he survived deep cuts from axes that went slightly awry, and a chainsaw that kicked back into his forehead (again, fortunately for his children), but finally succumbed to complications from a rare form of cancer called chronic myelomonocytic leukemia (CMML).
Dad was a quiet observer, a fact-gatherer, a studier, a planner, a meticulous organizer, and an amazing proofreader (I hope there aren't too many grammatical mistakes in here, Dad). He was smart, but more importantly, he was wise. He hated the limelight, but he deeply loved his family, longtime friends, hunting, fishing, a cigar and a good single malt scotch, Beaver Cove, the town of Gorham, and the woods of Maine.
He was predeceased by his parents, Raymond and Florence Phinney, and a sister- in-law, Elaine (Jude) Hanson.
He is survived by his wife Rosamond Phinney; four children: Michael Phinney, Shannon Phinney Dowdle (Bob), Dana Phinney (Becky), and Scot Phinney (Sarah), all of Gorham; grandchildren: John, Sam, Matthew, Nicholas, Elizabeth and Isabel Phinney, and Coleman, Caroline and Robert Dowdle; sisters: Jenifer McCullough (David) and Sheila Phinney-Levine, both of Gorham; brothers-in-law: Dick Jude (Mary) of Lamoine, and Michael Hanson (Carol) of Limington.
The family especially wishes to thank Daniel DeAngelo, MD, PhD, of the Dana Farber Cancer Institute in Boston, for his insight throughout John's illness, and the staffs at Maine Medical Cancer Institute, Maine Medical Center and the Gorham House for their help during the past few months.
Please visit www.dolbyfuneralchapels.com to sign John's online guestbook and to view his tribute page. In lieu of flowers, memorial donations can be made to: The Reed Allen Foundation, 2 State Street, Gorham, ME 04038. The Reed Allen Foundation is a charity established in 2013 to help Gorham area people in times of crisis.
---
In the 1950s as young kids we spent summer evenings playing baseball in the neighborhood. We would recruit kids of all ages from up and down Flaggy Meadow Road. John was often one of the first ones to call batter up at the nightly summer baseball games usually held either in the Treworgy or Phinney fields on Flaggy Meadow. We would play until it was too dark to see the ball or until someone got mad because they were losing.
Linda Faatz
John's history with Gorham Savings dates back to 1975 when he became a Corporator, and then a Director from 1989–2014. During this period, the bank experienced significant growth under the Board's oversight. John truly understood the mission of the bank as an economic engine in supporting the financial needs of families and businesses, and in the end strengthening our community. His knowledge of Gorham and his experience in running a successful business provided strong leadership and stability to our bank. He cared deeply about our customers as well as the employees; a man of great integrity that would always do the right thing. He will be sorely missed by his Gorham Savings family.
Chris Emmons
On June 14, I lost not only my brother, but my Phinney Lumber "boss" of thirty years, and also my friend. Everyone referred to John as a very quiet man, but he came by that naturally. John and Dad, Raymond Phinney, were both very quiet men. I attributed that to the fact that they lived in a house surrounded by three women: my Mom, Florence Phinney, and then John was sandwiched between two sisters, Jenifer and myself. So neither Dad nor John could ever get a word in edgewise.
Our younger days were spent outside. Summers included biking all around town or organizing neighborhood baseball games and participating in the annual fishing derbies at Alden's Pond. In the winter, we learned to ski on Gorham's first rope tow in the 1950s, took our quarters to a Saturday afternoon movie at the Gorham movie theater, and skated on Alden's Pond.
When I started my freshman year at college in Mass., John was a senior at UNH. I think he was concerned that coming from a small town like Gorham his little sister might be swallowed up in the college atmosphere. So on my first week at school, the girls in the dorm said there was a real cute guy in the lobby. I raced downstairs and there was John asking me if I would like to go out for ice cream. He must have guessed that I was a little homesick. He would drive over from UNH once a week during the first semester to take me for ice cream. I enjoyed it as well as all the girls in the dorm who thought he was a real "hunk." John, you are loved, deeply missed and were a wonderful brother.
Sheila Phinney Levine