Jon and Cindy Smith believe that in order for Gorham Village to thrive, there is a need for businesses to be able to survive in the Village, and that the best way to do that is to have businesses on the first floor of a building with residential tenants upstairs. Currently, their biggest planned project is Station Square, a commercial and residential property on Railroad Ave.
They expect to have six commercial businesses at that site along with 33 apartments. The businesses will include a bowling alley and restaurant on the first floor along with two small retail sites. There are also plans for two offices on the second level and a wine bar on the fourth and fifth stories. They maintain a waiting list of about 30 people who are interested in the apartments. Only one of the people on the list has a school-age child and that child already attends school in Gorham.
Smith expects construction to start this month and be finished by late summer of 2018. The previous tenant, who rented a portion of the property where the building was recently torn down (see above photo), is removing antique wood as well as cleaning up the site so construction can begin.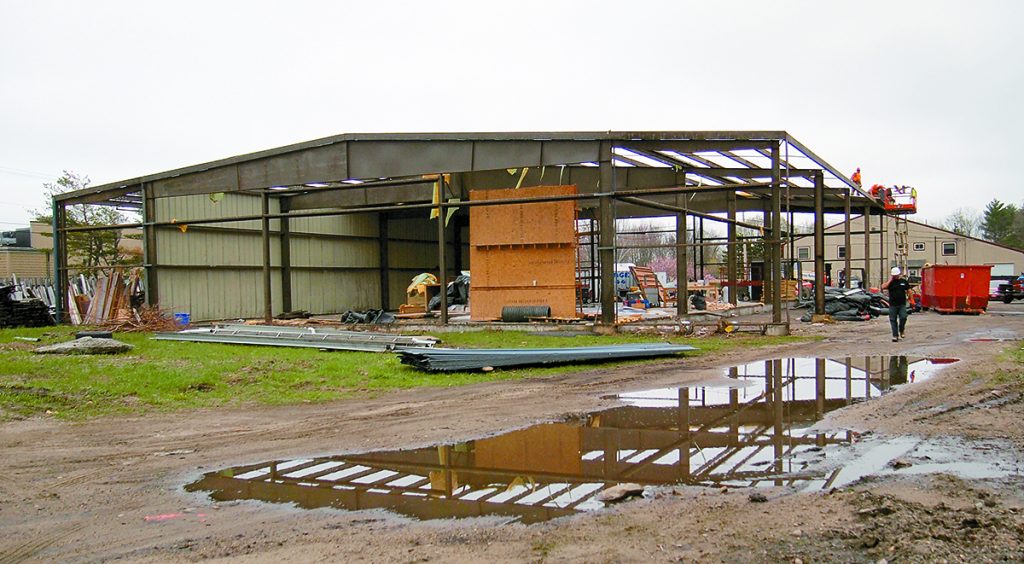 The Smiths also purchased the property at 8 College Ave. which was largely destroyed by fire this past winter. This property connects to 19 State St., the former home of the Centre of Movement, which the Smiths also own (along with the Gorham Arts Alliance building which abuts 8 College Ave). The property at 19 State St. is in poor condition, and ultimately, will probably need to be torn down according to Jon Smith. By purchasing the College Ave. property, they would have a larger parcel in order to rebuild on the State St. site. Smith has not yet made a decision on what he will do with these two properties.
The Smiths have also leased the building at 109 Main St. which was formerly occupied by Subway. They plan to have either residential or commercial tenants on the second floor, which is currently vacant office space, as well as a commercial tenant on the first floor. If there are more than two tenants, the building will have to be updated with sprinklers. Among the numerous projects the Smiths have developed in recent years in Gorham are the revitalization of the closed White Rock School into Perennial Place, with twelve apartments for citizens 55+ which has been fully rented, the demolition of the long defunct Mobil Station in front of Hannaford (cause for more complaints to the Town than any other property), and the construction of a replacement building housing four businesses: Aroma Joe's, Subway, US Cellular and Nail Xperts. They also built the additional Avesta Housing for senior citizens on Rt. 114, and their crews have begun construction of the new Sebago Brewery building which will house the Brewery's corporate offices, tap house, tasting room, brewery and more.