Among the national brands of cleaning products on the shelves at Hannaford, shoppers will find one identified as "local." Incredible Pink is a "green" all purpose cleaner produced in Gorham by Chem Quest, a company owned by Jeff Long and his father, Earl. Their cleaner is also available at local hardware stores.
A turn off route 25 into the Gorham Industrial Park leads to an expanding area of small businesses and to the Chem Quest office where Long and his small staff make a variety of cleaning and restoration products that are distributed throughout the northeast. The Longs founded the company in 1993 using cleaning product formulas Earl Long had acquired from years in the business. They blend, package, and label a variety of products used for automobile reconditioning and in the marine industry, most of which are sold under private labels.
Jeff Long's mission is to make products that are environmentally sensitive or "green," but are still effective in performance. At times, this balance has been difficult to achieve in the industry. Long believes he has found the right formula for the new Incredible Pink, and is hoping his loyal customer base will welcome the improved, "greener" version of the original cleaner and degreaser.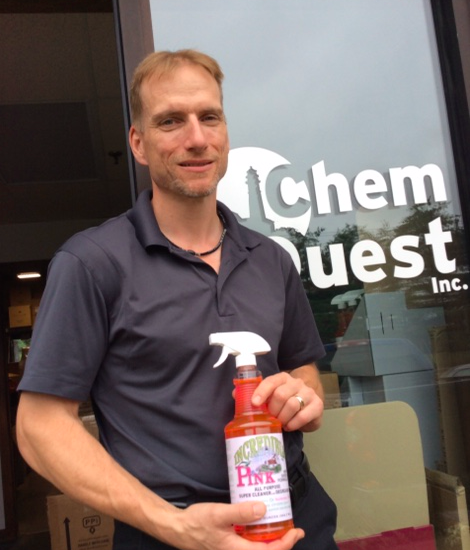 Long is an enthusiastic supporter of the environmental movement. He approves of regulations that make products safer for people and the environment, but is concerned that too often there is not enough implementation or follow-up. The global economy will make issues of international consistency increasingly important. He believes too that some requirements, for example date stamping on products that do not expire, should be reevaluated.
A small business owner with far-reaching ideas and concerns, Jeff Long is committed to running a company that is both profitable and environmentally responsible.